Quality Wood Railings Is Our Business
Prairie Springs Woodworking is a family run business that designs, constructs and installs wood railings. Prairie Springs Woodworking offers customizable spindle styles, corner posts options and a variety of staircase finishes. Customers can choose from an endless supply of stain from any of our local paint or hardware stores, allowing the exceptional railing to match to anyone's home or business decor. Check out our products page showcasing some examples of work we could provide for you. Our quality railing is created from wood at the local sawmills or manufactured on site from the 20 acres of land it is located on. Call today to schedule your appointment for a free estimate. With over forty years of experience, there is nothing Prairie Springs Woodworking can't customize for you!
We specialize in new home construction and remodeling projects offering only the best high quality styles of railings of all kinds.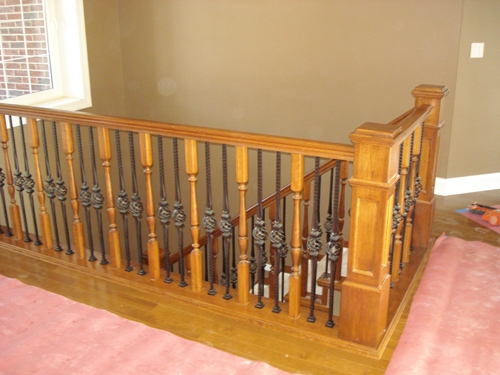 Create a unique look for your home or business by mixing different types of fabrication. We will work with you to design a look that fits your style.
Give us a call to see some samples of our unique wood railings and schedule an estimate.
We love our stairway- it's the focal point in our new house. We get a lot of compliments from our friends and family!
Amy Bemis